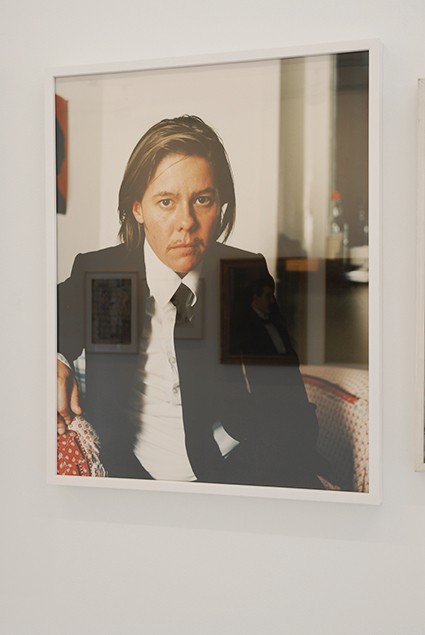 Selfportrait from the project "The Person Society -a presentation of Skåne Art Association's portrait collection", by Kajsa Dahlberg and Ylva Westerlund 2006
 
Apart from my individual artistic practice I've been involved in several collaborations, such as the ongoing collective reading "I want a president..." together with Fia-Stina Sandlund, Malin Arnell and Johanna Gustavsson since 2010. I was involved in the project "Equal Opportunities Agreement, 5 years later" by the YES! association in 2010. I was a member of the a research group "On the Conditions of Production", together with Kim Einarsson, Mattin, Michele Masucci, Lisa Rosendahl and Fredrik Svensk since 2009.
I was the co-initiator of the artist group the "Production Unit" together with Petra Bauer in 2004-2010.
In 2011 I co-curated the feminist performance festival "Feminists in Space" with Gritt Uldall-Jessen and Molly Haslund at Warehouse 9 in Copenhagen and was also engaged in the project of collectively writing a novel titled "The Chess Room", initiated by Sinziana Ravini.
In 2010-11 I was an artist in residence at Künstlerhaus Bethanien in Berlin. In 2009 I curated the exhibition "A Space on the Side of the Road" together with artist Henrik Andersson at Röda Sten in Göteborg.
I received Edstrandska Stipendiet 2007.
I was an artist in residence at Tranzit, Prague, Czech Republic in 2007 and at IASPIS - Artist in Residence in Stockholm 2005-06, and I was in Belgrade as part of the Nordic Institute For Contemporary Art (NIFCA) Balkan Air program in 2005 and at the NIFCA artist in residence program in Helsinki in 2004.
I was a board member of Baltic Art Center, BAC, between 2009 and 2014.
In 2012 I was commissioned to make a public art project for KORO (Art in Public Space, Norway) in the entrance of the Ministry of Health & Care Services at the Government quarter, Teatergata 9 in Oslo and in 2013 I made a public art project for URO in the form of a newspaper about gender and public space called For Myself and Strangers that was sent out to 100.000 households all over Norway that do not subscribe to a daily newspaper.
My work is represented in the collections at Moderna Museet Stockholm, Malmö Art Museum in Malmö, Hasselblad Center in Göteborg and at the Video-Forum at Neuer Berliner Kunstverein, n.b.k, in Berlin.
Since September 2016 I am working on a practice based PhD at The Royal Institute of Art (KKH) in Stockholm.